JUDY NIEMEYER'S COUNTRY PICNIC AND SPURS PATTERNS
I  had the pleasure of quilting Spurs and Country Picnic for Judy Niemeyer certified instructor Lisa McCarthy. Spurs and Country Picnic are existing patterns Judy and Judel Niemeyer have made over in their  fabric line The Reclaimed West. It's a lovely fabric line manufactured by Timeless Treasures. Here they are on the pattern covers: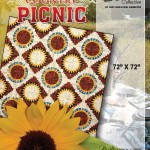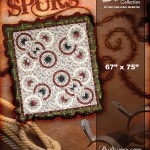 I also had the pleasure or seeing the quilts in the Timeless Treasures booth at Quilt Market in Houston 2015. Absolutely thrilling!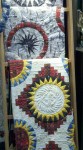 MARINER'S COMPASS UPDATE!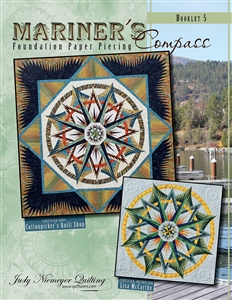 There it is on the cover of Booklet 5. Such an honor! If you're interested in taking Lisa's Mariner's Compass class, check her schedule on her website www.CompassPointQuilts.com.
MY FIRST DESIGN ON SALE AT LEGACY QUILTING
Having an original digital design available for purchase has been a goal of mine for a while now. I've created many of them but this is the first one that has been professionally digitized. It is the Mariner's Compass in the four corners that you can see in the pic below. The quilt in the picture is a Judy Niemeyer technique of the month pattern Mariners Compass. I quilted it for Certified Instructor Lisa McCarthy and I really, really love it! The colors, the design, everything! She is a wonderful teacher and you can check Lisa's website  www.CompassPointQuilts.com for upcoming classes.