Welcome to It's A Zizza Machine Quilting where all your machine quilting needs are met. Browse through my website and don't hesitate to contact me if you need more information. You can find me on facebook and Pinterest by searching for It's A Zizza. I've replaced my Awards page and Gallery page with these social media platforms because they are so much easier to add and edit than this website.
2017 HOLIDAY DEADLINE:  NOVEMBER 1
If you would like me to quilt a quilt for you to have ready before the holiday season, please have it to me by November 1, 2017. Please contact me if you find yourself in a bind and can't make the deadline. We can work something out.
QUILTERS WHO INSPIRE ME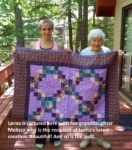 LORNA PRIESTLEY
I've been quilting for her for a couple of years now and she never ceases to amaze me. Lorna recently took time out from her busy schedule entertaining family and friends at her home in Maine to answer some questions. Grab a cuppa and learn why I'm so fascinated by her.
How old are you?
I am 94, and will be 95 in November. I adapt my quilts to my diminished agility in my fingers, by making quilts with larger pieces, and having them machine quilted by you, rather than hand quilting.
editors note: Happy birth month Lorna!
How long have you been quilting?
I have been quilting since my retirement from teaching in 1987. I had always made my own clothes, and loved sewing, so it was an easy transition.
Do you use patterns or create your own designs?
I use patterns, but often change them to make them more interesting. My favorites are scrap quilts, with a planned color scheme.
How many quilts have you made in your lifetime?
I have made more than 150 quilts. In the early days I made large quilts, but now, most of my quilts are large throw size. I have a large family, so there is always an occasion where a quilt is a welcome and colorful gift.
What inspires you?
I am inspired by the colors in beautiful fabrics, by quilts I see on the Internet, and in my large collection of quilting books. I like using colors together that make the quilt beautiful. I think I have a great hobby, as I am never bored!
See what I mean? And as a point of note – Lorna responded to these questions via email. (I'm lookin' at you Mom!!)
Save
Save
Save