JUDY NIEMEYER'S COUNTRY PICNIC AND SPURS PATTERNS
I recently had the pleasure of quilting Spurs and Country Picnic for Judy Niemeyer certified instructor Lisa McCarthy. Spurs and Country Picnic are existing patterns Judy and Judel Niemeyer have made over in their new fabric line The Reclaimed West. It's a lovely fabric line manufactured by Timeless Treasures. Here they are on the pattern covers: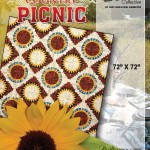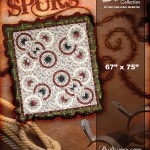 I also had the pleasure or seeing the quilts in the Timeless Treasures booth at Quilt Market in Houston. Absolutely thrilling!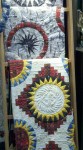 MARINER'S COMPASS UPDATE!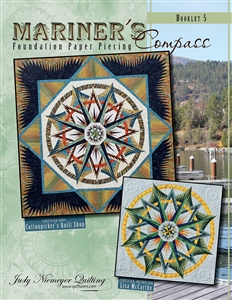 There it is on the cover of Booklet 5. Such an honor! If you're interested in taking Lisa's Mariner's Compass class, check her schedule on her website www.CompassPointQuilts.com.
MY FIRST DESIGN ON SALE AT LEGACY QUILTING
Having an original digital design available for purchase has been a goal of mine for a while now. I've created many of them but this is the first one that has been professionally digitized. It is the Mariner's Compass in the four corners that you can see in the pic below. The quilt in the picture is the newest Judy Niemeyer technique of the month pattern Mariners Compass due out in January. I quilted it for Certified Instructor Lisa McCarthy and I really, really love it! The colors, the design, everything! She is a wonderful teacher and you can check Lisa's website  www.CompassPointQuilts.com for upcoming classes you can sign up for. Lisa just got certified in July 2012. She's proving very popular, her classes are filling up quickly!
ANNOUNCING A NEW OFFER!
As a way to say thank you! for your patronage of It's A Zizza I'd like to extend the following offer:
After I have quilted 10 quilts for you, I would like to quilt the eleventh for you with a regular pantograph for the Econo-Quilting price. A savings of 42%! This offer requires no effort on your part. There are no punch/stamp cards to lose; you don't even need to count! I keep track of everything for you and notify you as soon as you hit the 10 quilt mark. I'm excited to see you all take advantage of this offer that will not expire.
It's a Zizza specializes in machine quilting, from sensible to show- stopping, with an emphasis on superior customer service.  My website changes periodically, especially the Gallery page. Check back often for more photos, new tutorials and additional discounts and promotions and the latest newsletter.
Carrie@ItsAZizza.com